2012 Birthday Gift Shopping Guide
As The Common Man pointed out on Twitter on Friday, you only have four more shopping days until TCM's odometer ticks up another year. That doesn't give you a lot of time to buy your presents and have them shipped so they don't get here late. Don't worry, TCM will still accept late presents. He just will know you don't love him as much as those that could be bothered to get their act together. And his feelings for you will be adjusted accordingly.
He already received one gift, from David Kaleida, of 6-4-3 Putout, and his exceptionally better half when they all met up at the Pirates/Brewers game yesterday. It's a fine mask with which TCM can protect his secret pseudonymous identity for future events. So long as The Boy doesn't get ahold of it, TCM anticipates its fine craftsmanship will hold up for years and provide the world with untold pleasure. Strong work, David.
Since you might not have a lot of time to shop around, and you might not see him before Friday, The Common Man wanted to (like he did last year and the year before) give you an easy gift guide with plenty of ideas co-located in a single place. Any and all of these gifts would be greatly appreciated, but as always, in addition to your punctuality, TCM will also know what you think of him by how much you decide to spend.
Roberto Clemente Superball, $199
We'll start off simply enough. This is just like any other superball, but for some reason it has Roberto Clemente's face inside it. There would be a kind of joy in owning a tiny Clemente head trapped in rubber, wouldn't there? TCM thinks there would. Clemente would definitely approve. But this is a child's toy. Perhaps you wanted to get TCM something more adult...


Autographed Joe Garagiola Vodka, $149.99
Autographed Joe Garagiola Canadian Whiskey, $149.99
Joe Garagiola makes and signs his own booze? Joe Garagiola makes and signs his own booze. It's pretty easy to understand the appeal here, as Joe is a beloved figure in baseball history, and booze is beloved by pretty much everyone. Plus, last year, the uncommon wife gave The Common Man this, which was on his list, so you would be continuing the fine tradition of baseball-themed alcohol gifts.

Ticket to 1867 Philadelphia South Penn Base Ball Club 1st Annual Ball, $284.75
If you read John Thorne's Baseball in the Garden of Eden, you will learn that early baseball teams were designed as much to encourage socialization and networking in a given profession as they were to encourage exercise. This beautifully ornate invitation will allow The Common Man (and his plus-one) to attend the ball just as soon as he gets his time machine up and running. Oh, but whatever will TCM wear to the festivities?

Orange Peel Baseball Cufflinks (circa 1890s), $999.00
TCM generally doesn't wear clothing that requires cufflinks. But to be the belle of the ball, he's definitely going to have to. And while he does own a pair currently that the uncommon wife gave him, they are in no way related to baseball, and thus will not cause the requisite stir at the annual ball. So if you want to coordinate with somebody else so that one of you gets the ticket and the other the cufflinks, or you go halvsies on both, that'd be stellar.
Minnesota Twins Lineup Card from 7/5/1996, $19.99
Ok, so maybe you don't have that much money to spend. But here's the Twins' half of the lineup cards from Mark Gubicza's last game as a Royal. Gubicza's name appears nowhere on the lineup card, mind you, but it's still kind of fun to think about. Gubicza lasted just a single inning against a stellar Twins lineup that included legends like Rich Becker, Scott Stahoviak, Greg Myers, Ron Coomer, Pat Meares, and his opponent was the immortal Frankie Rodriguez.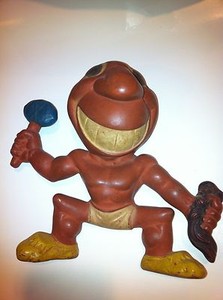 Cleveland Indians embroidered Chief Wahoo patch, $195
1949 Cleveland Indians Chief Wahoo Mascot Toy, $179.99
Or maybe you prefer to fight racism. As The Common Man proposed on Twitter on Friday, you could buy either of these horrifically racist relics of Wahoo's earliest days. From before he changed from horribly, horribly racist to only cartoony racist. If you buy these, not only will we prevent them from going to a collector who will actually appreciate them, but The Common Man promises to burn them or otherwise destroy them in a YouTube video. That'll be incredibly cathartic for all of us, won't it? In fact, if you buy either of the Wahoo gifts, and you buy some of the Garagiola brand alcohol, TCM will soak the toy or patch in said alcohol first so that it will burn very, very bright.
1930s photo of Old Hoss Radbourn's Sisters, $29.99
Sometime during the Great Depression, Radbourn's last two living sisters met with Clark Griffith for some reason. They are hot, aren't they? Eh, in retrospect, you should probably buy this for Hoss himself.

12 Busts of HOFers made of lead, pewter, and bronze, $659
Once the Hall of Fame ceases to become relevant because the voters refuse to elect the best players from the last 20 years (Bonds, Clemens, Bagwell, McGwire, etc), we're going to need to start again. Why not just have everyone come over to The Common Man's house. We'll reboot the Hall of Fame so that we get to kick out guys like Rube Marquard, Freddy Lindstrom, and Tommy McCarthy, and replace them with Alan Trammell, Dick Allen, Bill Dahlen, and Buck O'Neil. We'll display these 12 busts (of Babe Ruth, Walter Johnson, George Sisler, Tris Speaker, Christy Mathewson, Rogers Hornsby, Lou Gehrig, John McGraw, Ty Cobb, Mickey Cochrane, Joe DiMaggio, and Honus Wagner), and commission more. Help TCM get started, won't you?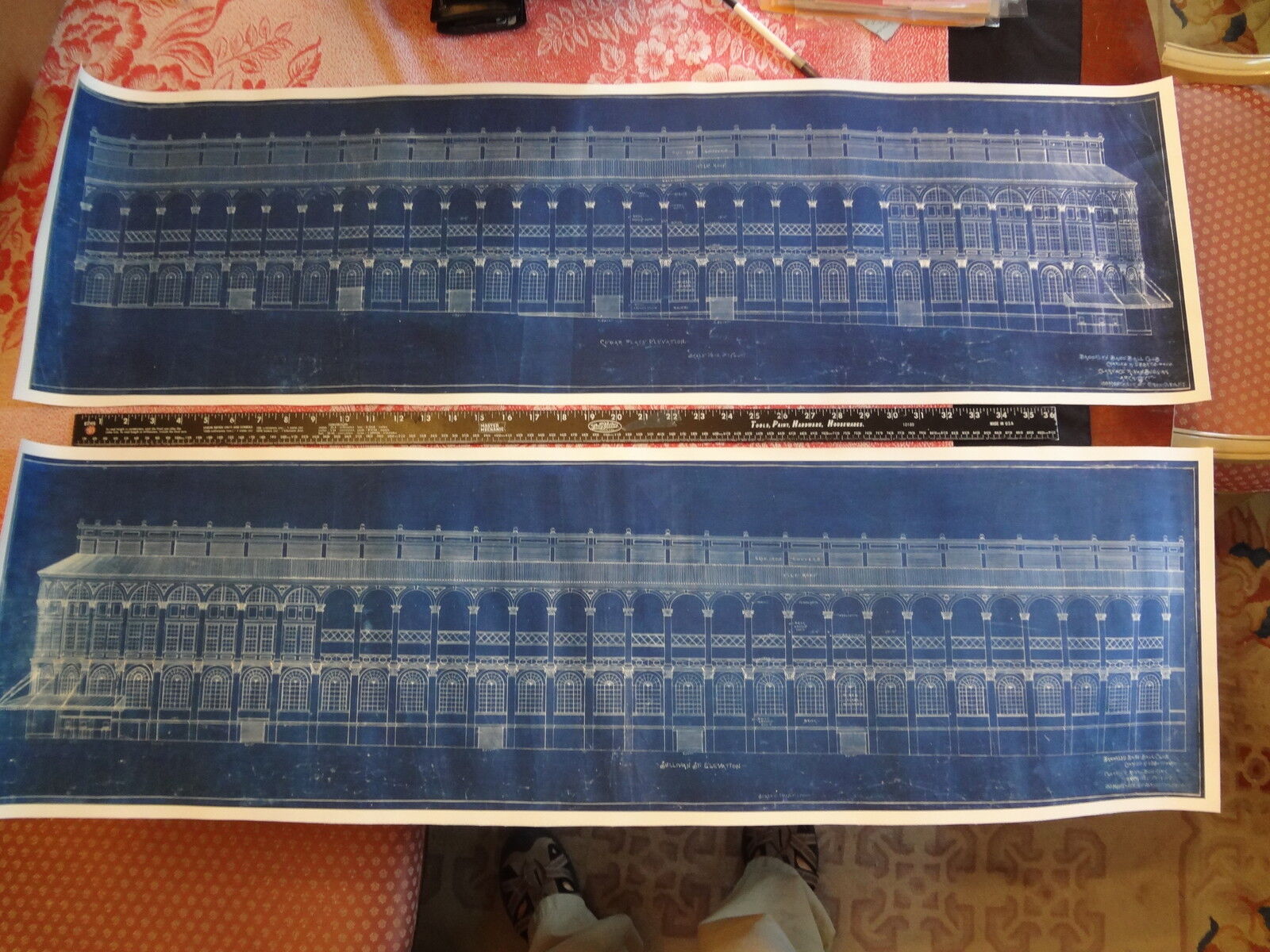 1912 Ebbets Field Blueprints, $999.99
They really don't build ballparks like they used to, do they? Well, what's stopping us? Get TCM these copies of the original 1912 blueprints for Ebbets Field and let's make our own. If we build it, they will come.
1930 Babe Ruth Composition Sterling Doll, $499
Boy, that's creepy. And it looks nothing like Babe Ruth. And it has a hole in its head. Nobody thinks this is weird? My kids are going to need therapy anyway; so you may as well help TCM give them topics for their sessions.

1988 Topps Fred Manrique baseball card and 20% stake in a feature film, $405,000
First of all, Manrique represents the first time he ever felt lied to by his baseball team, as the Twins touted Manrique as the solution at 2B in 1990 when they signed him as a free agent. He hit .237/.254/.346 and earned his release in August. He was about as disappointing as having to work in a tuna cannery, which is coincidentally the same thing that this PG-rated movie will be about. Apparently life as a tuna cannery worker sucks a lot, and the San Diego Film Co-op would like to make a film about the workers' strife (with a romantic subplot). The Common Man is very willing to go Hollywood, friends. "We're going to make it great! So we think it can make it to the Theaters!!"
But if you've got $400K to spend on TCM, maybe you'd consider upping your contribution ever so slightly to buy this:

One-of-a-kind 2009 Derek Jeter Topps Sketch card signed by artist Luis Diaz, $2,000,000.
Maybe you don't think a Derek Jeter card from as recently as 2009 is worth $2 million. But The Common Man will let the seller explain in his own words:
In Gorgeous NM Condition or Better with 4 sharp corners and edges. It is an Exquisite Luis Diaz Commemoration of Derek Jeter's Greatness. Masterfully, Luis Diaz captures the depth, the breadth, and the height of what is and has become known to all who have watched Derek Jeter Inhabit the game of his dreams, the heart and soul, the very breath of his concentration level and his pure respect for this game that has been surpassed by no one. He reminds us all of what Sportsmanship is and how it should never be far from us in any walk of life. Both on and off the field, Derek Jeter has led by his natural example. He has gained the respect of the World by walking the walk, not just talking the talk. Derek Jeter, Shortstop, Captain of the New York Yankees, Man of Our Times, will some day pass from being an active player and go by way of his many celebrated predecessors into the Halls of not only Cooperstown, but forever into the Halls of hearts and minds of endearing fans. But Derek Jeter's Legacy may not be fully recognized by all immediately. As the years pass, and as the chronicles of baseball live on to experience more change, witness more greatness, whole glimpses of what Derek Jeter has meant to baseball and what he achieved in life will come to light gradually, most significantly, and lastingly..
He goes on to compare the card to the T206 Honus Wagner and promises at least 20% of the purchase price will be donated to charity. Also, shipping is free, so there's that. The card was also on the market last year, so if you can't afford it this time, there's a pretty good chance it will be around in 2013 if you save up your pennies and want to give it to him next year.
Don't worry, The Common Man will love whatever you get for him. He just might like some other gifts, and thus other people, slightly (or even much) more. But don't let that stop you from trying to make TCM happy. Good luck shopping everybody! If you need TCM's shipping address, let him know!