Tuesday Morning Cram Session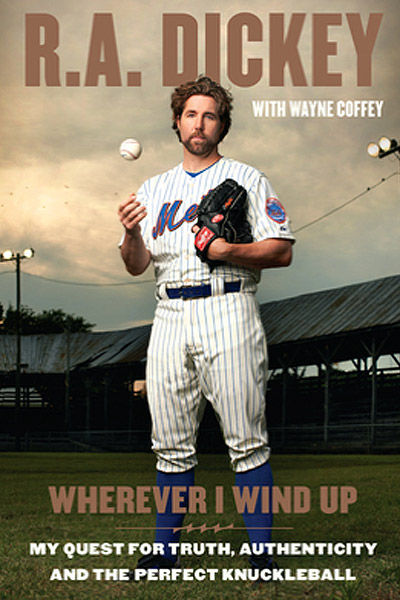 There's no arguing that RA Dickey is the single most watchable pitcher in the Major Leagues today. He throws a hard knuckleball, which he can locate well, strikes out a ton of batters, and is really, really good. But there's kind of a dearth of other pitchers around the game who are fun to watch, isn't there? If The Common Man said you had to spend the rest of the season watching only one starter not named RA Dickey, who would it be? Here's TCM's top 10:
10) Brandon Beachy – His deception is a cute trick, though we may not be able to watch him for a while depending on how his visit with James Andrews goes.
9) Roy Halladay – He'd find a way to get back at The Common Man if TCM left him off this list, even though he's struggling.
8) Johnny Cueto – Again, The Common Man has no idea how he throws anything for a strike. He stares at second base until the last possible second.
7) Zack Greinke – Capable of complete domination, and his ability to change speeds is unparalleled.
6) Mark Buehrle – Ho hum, another season with a good ERA and a bad strikeout rate. He works so quick, his starts are rhythmic.
5) Yu Darvish – He's still so new and shiny, it's hard to feel like we've seen everything he can do yet.
4) Chris Sale – Six foot, six inches, and a crazy arm angle. A 173 ERA+ and 82 Ks in 80.1 innings. See him now before he blows out.
3) Justin Verlander – What? Total and complete dominance is interesting.
2) Johan Santana – His changeup is so very beautiful.
1) Stephen Strasburg – His stuff is absolutely electric, and the closest thing he's had to a bad start since 2010 is his May 26 start against Atlanta where he allowed 4 runs in 5 innings with 4 walks. He still struck out 6.
Pitcher of the Night: RA Dickey, 9 IP, 1 H, 2 BB, 13 K, 0 R
Who else but RA Dickey? He's thrown back-to-back one-hitters. As the interestingly handled @CatsmeatP_P pointed out last night, Dickey has pitched 48.2 innings in his last 6 starts, allowing 21 hits, 1 earned run, 5 BB, and has struck out 63. That's a 0.18 ERA, by the way. Last night, he tied Phil Niekro for the most strikeouts in one game by a knuckleballer (Phil KOed 13 batters three times). On fire doesn't even begin to describe the most singular pitcher in baseball history: A knuckleballer who not only is a strikeout pitcher, but who has remarkable control over his pitch. Let alone one with no UCL and who didn't get a proper chance until he was 35 years old. By the way, if you missed it, here's TCM's review of Dickey's memoir that came out earlier this year.
Hitter of the Night: Aaron Hill, 4-4, 2B, 3B, HR, 3 R, 1 RBI, cycle
Aaron Hill gets the fifth cycle in Diamondbacks history, which, if seems like a lot in 15 years, especially if you're a Padres fan. Hill's now hitting .284/.352/.475 in 261 plate appearances, and making almost a million dollars less than Kelly Johnson, making it pretty clear who won that trade.
Defensive Play of the Night: Alexei Ramirez
Apologies that your morning was sullied by the sounds of Hawk Harrelson, but this play was a dandy.

Trade Bait of the Night: Brett Myers, 0.2 IP, 8 H, 5 R
And just like that, after we talked about him on Friday, Myers doubles the number of runs he's allowed this season and his ERA leaps from 1.99 to 3.86. This probably won't scare off anybody, but it does underscore the fact that, in spite of his numbers, Myers was never an elite reliever and enthusiasm should be tempered.
Injuries of Note:

Shaun Marcum and Brandon Beachy, elbows

Kyle Drabek, Tommy John surgery
Terrible news all around on the elbow fronts. Drabek's out for 12-18 months for his second surgery, Beachy is going to see James Andrews and has a partially torn UCL, and Marcum's elbow is sore after he finished last year with a bum shoulder.
Jerome Williams, shortness of breath
Williams struggled against the Giants, lasting only 3.1 innings and giving up 4 runs. When he was removed, he was spotted receiving treatment for shortness of breath and was taken away to the hospital for precautionary reasons. Apparently, he passed out in the clubhouse. Which all sounds scarier that it probably is. Still, thoughts are will Jerome, who we should all be rooting for.

Ephemera:

Yankees: Derek Jeter, 2-4, 3 RBI
Jeter is now 6 hits behind Cal Ripken for 14th all time. Plus, he made a play to his left! Truly, the man can do anything.

Astros: Brian Bixler, 3-5, HR, 2B, 2 R, 3 RBI
Bixler hits the first homerun of his career in his 291st career plate appearance. That's not a record or anything, but The Common Man may never have a chance to celebrate Brian Bixler again. So let's just take the opportunities that live presents us, shall we?

White Sox: Paul Konerko, 1-3, HR, 2 RBI
Despite the fact that he's a White Sock, The Common Man has always liked Paulie K, who's just been a really good hitter for a very long time after washing out of both the Dodgers and Reds organizations. At 36, Konerko is having the season of his life so far. His .359 batting average leads the AL, as does his .434 OBP and his 176 OPS+. His slugging percentage is .600. Some day, he's going to retire and all of us are going to be really surprised we never realized how good his career was.

Rangers: Joe Nathan, 1 IP, 2 H, 0 R
Last year was an incredible struggle for Joe Nathan, as he fought to come back from Tommy John Surgery. This year, he's struck out 33 batters in 27.2 innings, while only walking two batters, and a 1.63 ERA. And he's got 14 saves in 15 chances. It's hard to say the Rangers got a bargain when they guaranteed him almost $15 million for his age 37 and 38 seasons, but they're certainly getting a vintage Joe Nathan for their money.
Giants: Brandon Belt, 2-2, 2B, 2 BB, R
Belt is now hitting .261/.379/.428 (130 OPS+) on the year, and Bruce Bochy is running out of reasons not to play him. Belt's started 10 of the Giants' last 11 games, and his hitting .375/.487/.750 with 3 doubles, 3 homers, and 7 walks during that stretch. Of course, Belt's also been hitting 6th or 7th that whole time in front of Joaquin Arias (.279 OBP) and Brandon Crawford (.286 OBP), so he's only scored five times.
Padres: Jason Marquis, 7 IP, 5 H, 2 R, 3 BB, 10 K
What. The. Fuck?
Man... Dickey. It's freakin unreal what he is doing this year! He's 37 years old... how long can he keep it up?!? Is he this legit? Beachy and Halladay are just KILLING my fantasy team. Soooooo sad.
great read! Thanks for the informative article!
@Daniel Jones I agree. I love these!